Duke Capital Partners Associates lead successful VC competition team
---
"We were in enemy territory," said Shayon Saleh with a chuckle.
Saleh, Duke University Fuqua School of Business MBA student and Duke Capital Partners Lead MBA Associate, was reminiscing about a recent trip to UNC. A team of Fuqua MBA students, including a few Duke Capital Partners Associates, had made it to the Global Finals of the prestigious Venture Capital Investment Competition (VCIC), hosted annually by the UNC Kenan-Flagler Business School.
This event flips the usual case competition structure: instead of pitching company ideas to expert judges, student teams play the role of mock venture capital investors as they hear pitches from real-life start-ups. The student teams are judged on their deftness in performing due diligence of pitching companies, collating written deliverables like term sheets, and in-depth interaction with real VC judges.
"We were able to utilize each team member's prior experience, while most other teams were concocting expertise aligned with their intended value add to the companies pitching," said Ayana Ferguson, Fuqua MBA student and a Duke Capital Partners Associate.
Ferguson and Saleh were joined by fellow MBA students Lizzy Isgar, Mark Dryden, Kyle Ritter, and Natalie Behan (who had replaced Thomas Cheng, another Duke Capital Partners Associate who participated in an earlier round of the competition).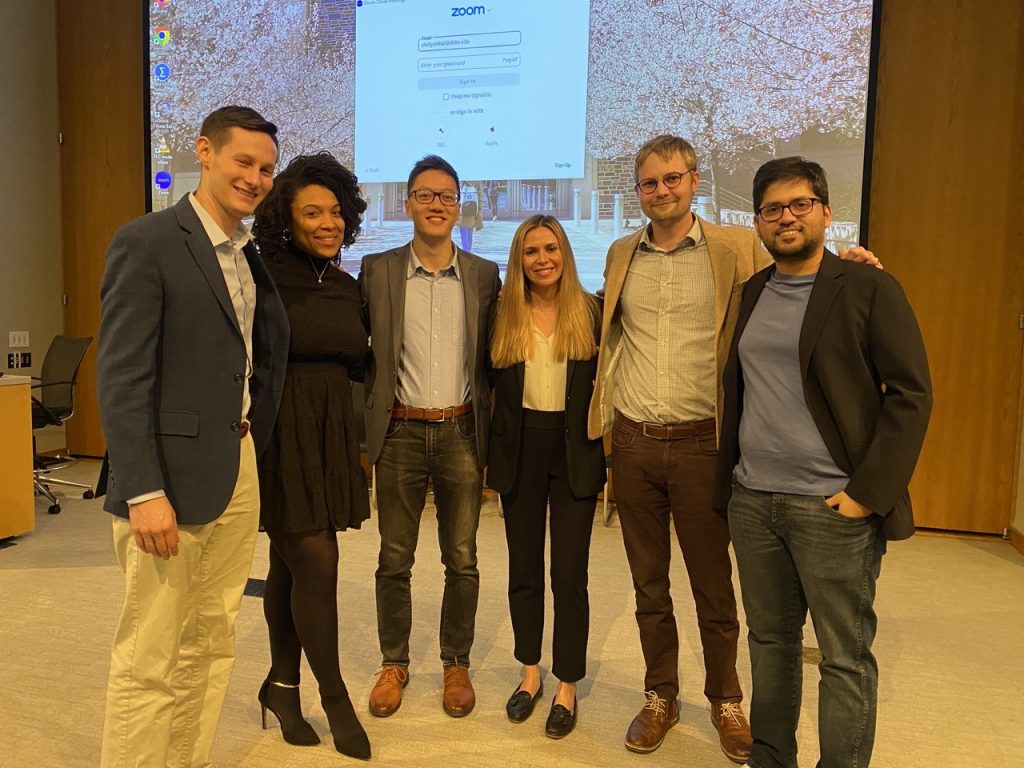 Not only were the team members all bringing their Fuqua learning to bear, Saleh and Ferguson folded in their extra experience of already participating in real-life investing through the Duke Capital Partners Associates Program.
"You have to not only prioritize questions but put them in a succinct storyline," said Ferguson of her experience on screening calls with entrepreneurs reaching out to Duke Capital Partners. "The same kind of thing was happening in the competition."
"A big part of VC is fostering relationships," said Saleh, something he also has developed an appreciation for during his time with Duke Capital Partners and was keeping in mind during the competition.
Saleh had cobbled together a team last year, but didn't get far. A different team, which included another Duke Capital Partners Lead MBA Associate Willa Townsend, won the local competition. This year, he got a team together earlier and started prepping.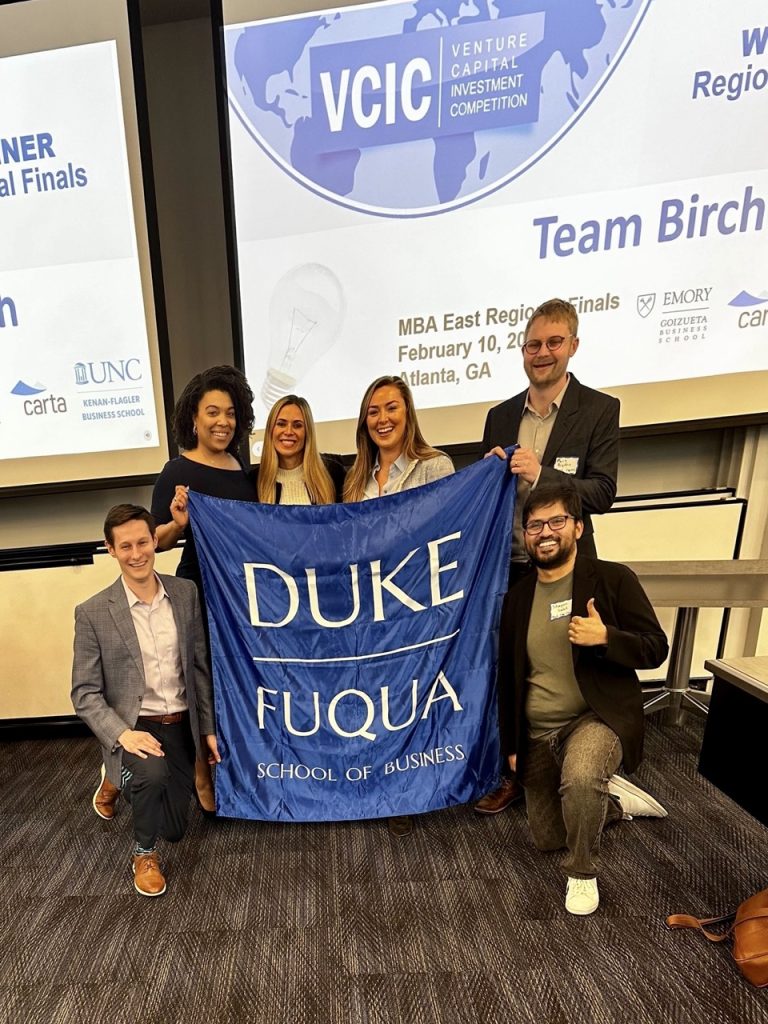 The team won the local Duke competition and headed out to East Regionals at Emory in February. The Duke Capital Partners Operating Team met with the team ahead of Regionals and gave good advice, Saleh said.
It paid off, with the team winning the East Regional competition, earning a spot at the Global Finals at the end of March into early April. The team performed well, but just missed out on a podium position.
"It built my confidence," said Ferguson. "Now, going into those pitches as part of Duke Capital Partners, I know what to ask and it's easier for me to evaluate a company."
Saleh is passing on the torch to Ferguson, who is looking to lead the VCIC team next year.
"Most teams have been independent, so we are increasing efforts to have year-to-year continuity at Duke," said Saleh. "In the finals, we have these perennial winners who have this mindset going in that 'We have to win, our school expects us to win.' They have a lot of year-to-year preparation."
"The last time Duke was at Global Finals was 2015, and before that was 1999 when we won, so I want to make sure we have a structure in place going forward," said Ferguson.
Here's hoping that Ferguson will be leading a Duke VCIC team to enemy territory again next year.
Learn more about the Duke Capital Partners Associate Program.