Otter.ai sees over 600% growth in product-use in the last 2 years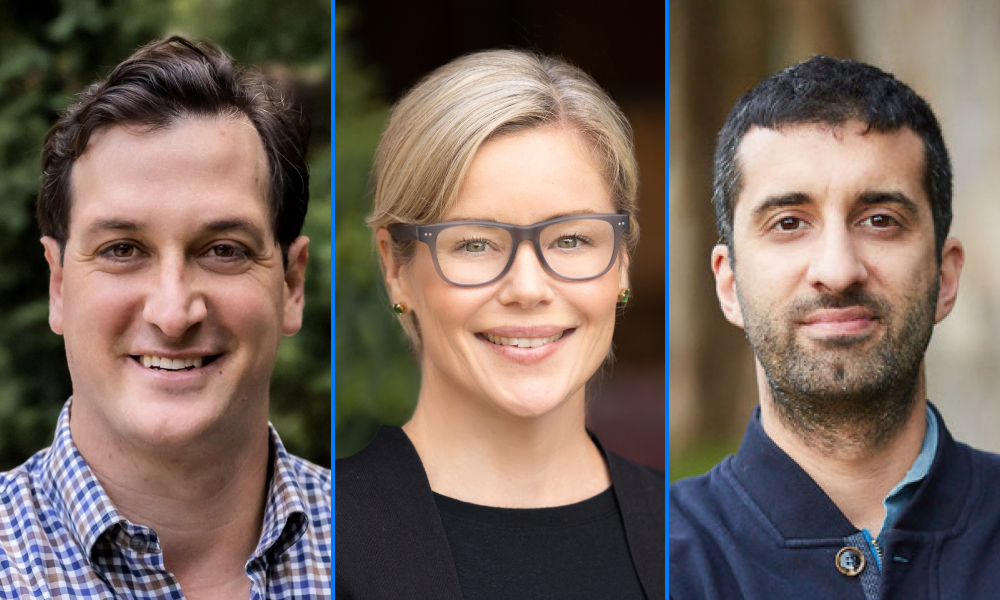 We're thrilled to see our Duke Capital Partners portfolio companies growing.
With Otter's growth, they've brought on 3 key hires to accelerate their already high growth: Zack Cable (CRO), Treena Diebolt (VP People), and Darius Contractor (Growth Advisor).
Congrats Sam Liang, Duke University alum Yun Fu, and the entire Otter Crew!
The below article originally appeared on Business Wire:
MOUNTAIN VIEW, Calif.–(BUSINESS WIRE)–Today Otter.ai announced the appointment of Zack Cable as Chief Revenue Officer and Treena Diebolt as Vice President of People. In addition, Darius Contractor has joined as a growth advisor. All three join Otter at an important time of strategic growth for the company where, in the last two years, Otter has experienced over 600% increase in product-use. Now Zack, Treena, and Darius will bring valuable bottoms-up SaaS experience to growing Otter's customers and employees.
Zack is a revenue leader with experience unifying product-led growth and sales execution, most recently at bottoms-up SaaS company Browserstack where he led the North America business and scaled the revenue team to over $100M. This accomplishment was not a first for Zack, as he has built and led teams past the $100M mark at DoorDash and Atlassian too. Zack's depth of SaaS experience and insight will help bring the magic of Otter to enterprises and organizations that can benefit from Otter's meeting transcription and collaboration features.
Treena brings over 20 years of experience to Otter as a talent expert who has effectively built and scaled companies by a magnitude of thousands of employees. Prior to this role, she was Boom Supersonics' VP of Talent Attraction building world-class programs for Talent Acquisition, Diversity, Equity and Belonging, Learning and Development and more. She has also built teams at Peloton, BlackBerry, Indeed.com, and Nuance Communications. Treena joins as Otter's first VP of People to help build out the company's people function inclusive of accelerating talent acquisition for engineering and sales.
Darius joins Otter as a growth advisor leveraging expertise gained during stints at a variety of companies including Dropbox, Airtable, and Meta where he was responsible for user scaling, agile management, rapid iteration, product strategy, and many other aspects of company growth. Amongst his successes, Darius was a part of the team that scaled Dropbox to over 200 million users and grew Airtable into a decacorn in less than four years. His experience as a growth-focused product and engineering leader will help Otter continue and accelerate its exponential product, user, and company growth.
"We are thrilled to have Zack, Treena, and Darius join Otter as more companies and organizations look to adopt Otter as part of their solutions to make meetings more productive and actionable," says Sam Liang, CEO and co-founder of Otter. "They are key to helping Otter reach more companies that need to cut meeting costs and make meetings more actionable for their employees with new features like Otter's AI powered automated meeting summary."
As Otter grows, so do our people needs. We are actively hiring for Engineering, Sales and Data Scientists. We have a talented and accomplished team who are passionate about using AI to make conversations more valuable. If you would like to join our mission, visit us at Otter.ai/Careers.
About Otter.ai
Otter.ai is the world's leading meeting transcription, summarization and collaboration tool. Teams connect Otter to their calendars and video conferencing apps to capture, store and even collaborate using their notes from every meeting. The company is backed by early investors in Google, DeepMind, Zoom, and Tesla.
Contacts
Mitchell Woodrow, mitchell@otter.ai